Greetings, all! I've missed you, but I've been a little under the weather and haven't been able to post. But I'm back with some lovely designs from my last photo session at the shop, and I promise not to take so long between posts next time. I'm itching to get back to the shop to take pictures of the new arrivals. I'm getting most excited about the new Christmas designs coming in.
For now, let's think "fall" and "Thanksgiving." I adore this little turkey. Stitch him up, turn him into a little ornament and let him hang around your Thanksgiving table. I have a boring chandelier that he could enhance.
Here's a gorgeous fall design by Glendon Place. We carry lots of Picture This Plus fabrics (which this is stitched on)--come in and see which shade you like best, or let us choose if you can't make it in.
"Jumpin Jack Frost" by Tempting Tangles Designs for a big splash of fall. From last year, but worth repeating.
Even older, but I adore this chart by The Prairie Schooler.
Also a classic, by Shepherd's Bush. "Happy Thanksgiving." Pilgrims, the Mayflower, Native Americans, autumn leaves, buttons!
"Harvest Huswife" by Blue Ribbon Designs. I want to stitch the autumn fob!
By Amaryllis Artworks, "Quaker Pears." I'm envisioning these in a bowl for a Thanksgiving centerpiece.
This guy makes you go "awwwwwwwww." "Daydreaming" by Mosey & Me. See the little sheep-shaped cloud that he's gazing at? Awwwwwwww.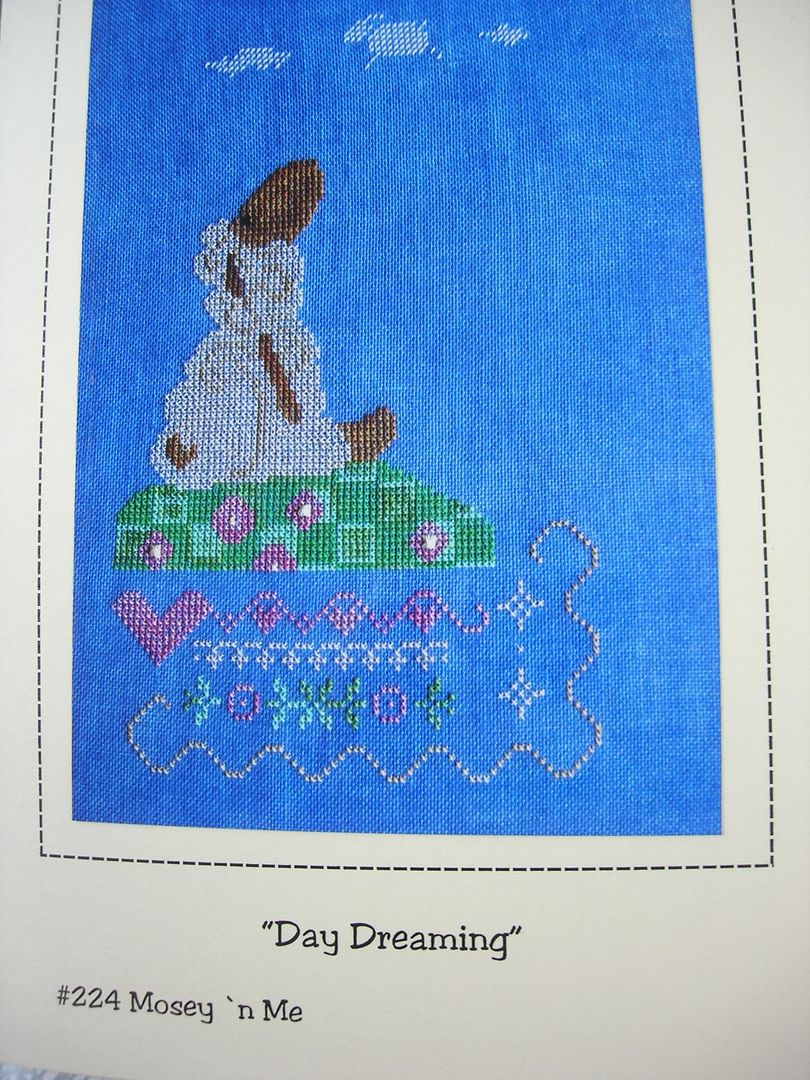 By Priscilla's Pocket, this simple little sampler, perfect for that small bare spot near your stitching chair. "Harriet Hawley -1831."
"Good Friends Inspirational Boxer" chart by Lizzie Kate. I'll bet you have a good friend who would appreciate this stitched up for Christmas. You could finish it as a pillow. Do we tell our friends how much we love and appreciate them nearly enough?
Or stitch them a fun Lizzie Kate stocking (stitch one for yourself, too)--"Flora McSample's Christmas Stocking 2013." Note the beads and button included with the chart:
My pet bunnies think this is a terrific little ornament or framed picture. Peter Peter Pumpkin Eater. Adorable, say the fluffy-tailed ones.
I completely forgot to get the name of this chart's designer, but I have to include it anyway because I so love the composition. If you want to order it, tell the ladies it's on the Thanksgiving or Halloween spinner.
"Happy Harvest" by Country Cottage Needleworks. Fabulous little pumpkins.
Last but not least, I have to show you this little finished pin pillow by Shepherd's Bush: "Hocus Pocus." Too cute.
If you have questions or to order any of these lovely items, please call us at 703-360-4600. We are located at 8800-F Pear Tree Village, Alexandria, VA. Our hours are 10 a.m. to 5 p.m., Monday through Saturday, and 12:30-4:30 the first Sunday of the month (that's tomorrow, Sunday, November 3!) (Also, be sure to set your clocks back tonight, Saturday, November 2! Yeah, we get an extra hour of stitching this weekend!) Stitch Nights are the first and third Wednesdays of the month (this coming Wednesday is a stitch night too!) We hope to see you here!
Happy stitching!