Greetings, all! Independence Day is nearly upon us, and I have never seen a more appealing bunch of patriotic designs, old and new. And, before I forget, the banner photo is of "Daisy Dog," by Stitchy Kitty. It took me a little over two weeks to stitch up, working in my spare time. Wait 'til you see the framing treatment that Karen, our framer, helped me choose!
First off, our dear customer, Carol M., is stitching "Beggar's 4th" by Threadwork Primitives:
website
. Thank you, AuryTM, for your generosity!
Here's what the finished project looks like. I estimate this as being a two-week project (bear in mind I work full-time, so most of my stitching is done on the weekend and at lunch and sometimes before bed--you may finish it more quickly than I can).
I also purchased the August 2014 issue of Just Cross Stitch magazine for the Cape Cod Summer project on the cover. Looking at the proximity of the water to the cottage, I'd say it's a storm disaster waiting to happen. I'm glad I'm going to own the thread version of it! Stitched in DMCs--if you can't make it to the beach this summer, this will make you feel cooler--and it's a lot less expensive than going to the Cape!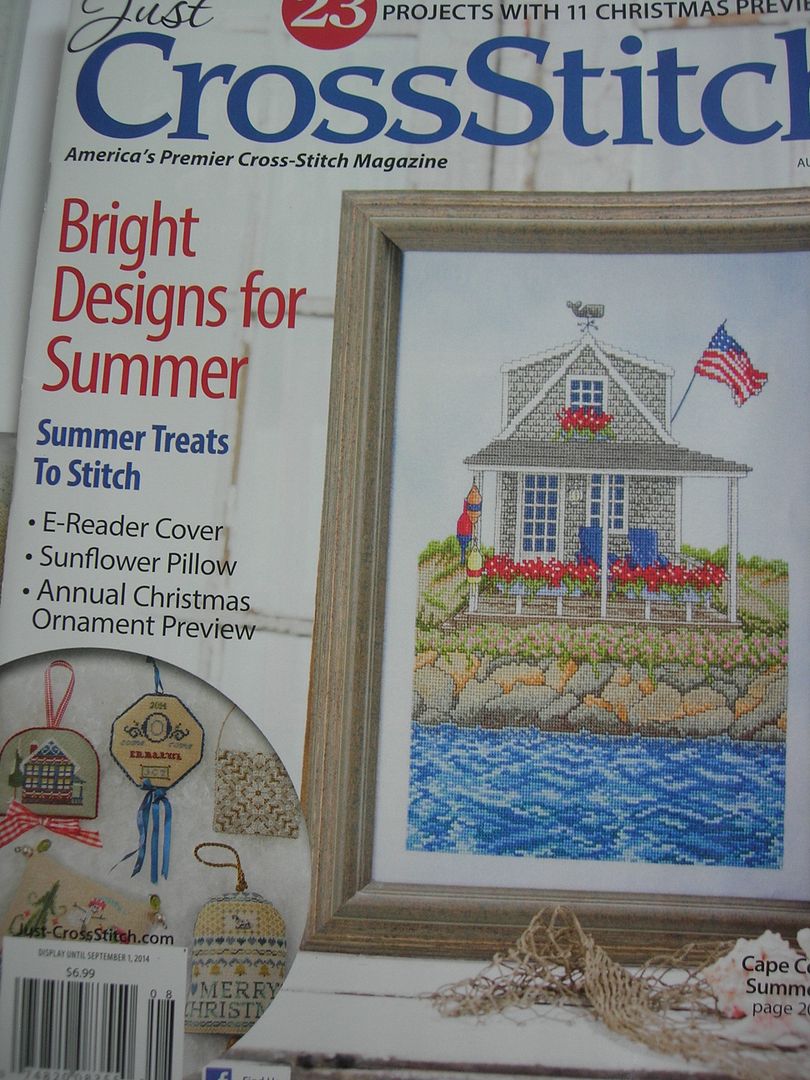 Here are two quick-to-stitch sweet JBW designs: "Seaside Alphabet" and
A great kit by Jeannette Douglas, a Flag Needlekeep:
Something I plan to stitch, also by Jeannette Douglas, "Patriotic Sampler."
By Shepherd's Bush, "American Trifles."
Our address is 8800F Pear Tree Court, Alexandria, VA, and our phone number is 703-360-4600. Our hours are 10 a.m. to 5 p.m., Monday through Saturday, and 12:30-4:30 p.m. the first Sunday of the month. Stitch nights are 6-9 p.m. the first and third Wednesdays of the Month.
I will post holiday hours when I've checked with Ellen. In the meantime, Happy Stitching!