We In Stitches shop ladies had a very special day today: it was Ellen's annual staff Christmas party, which she hosts at her lovely home. We came to eat brunch, to exchange gifts, to stitch and to chat. Just to show you one of her many samplers, stitched reproductions or originals. Here's an antique original. I love coming up her stairway and looking at all her samplers.
She cooked a wonderful meal for us: here are two puffy egg bake casseroles (one is sausage, and one is bacon). There was lots of other food as well--mouthwatering smells--served on festive Christmas plates.
We broke out the show-and-tell; most of us brought one or more projects to work on, and some of us brought finished projects to show to the rest of us. Can you believe the stocking that Deborah needlepointed? Then and there, I made my New Year's resolution: not to lose weight or exercise more (although it would be helpful to do both of those), but to learn to needlepoint really well. I'll report back next year with my results.
Here Mary shows the scarf she's knitting currently, and the needlepoint purse she made many years ago.
Radonda is working on this wonderful needlepoint pumpkin. She decided that the coverage wasn't adequate with one strand of yarn, so she and Karen went out to the deck and painted the canvas so the white wouldn't show through. I didn't know you could do that! (Acrylic paint).
After brunch, we played "dirty Santa," which involves drawing a number to choose a gift from the hand-made gift we each brought to the party. Number one chooses a gift. Number two can choose a gift or steal number one's gift. This was the first gift chosen and was stolen immediately. Diane stitched this: Blackbird Design's "Crowning the Tree." I have seen the chart in the shop, and now I want to stitch it too (I stole it from someone, and then someone stole it from me--a gift can be stolen three times.)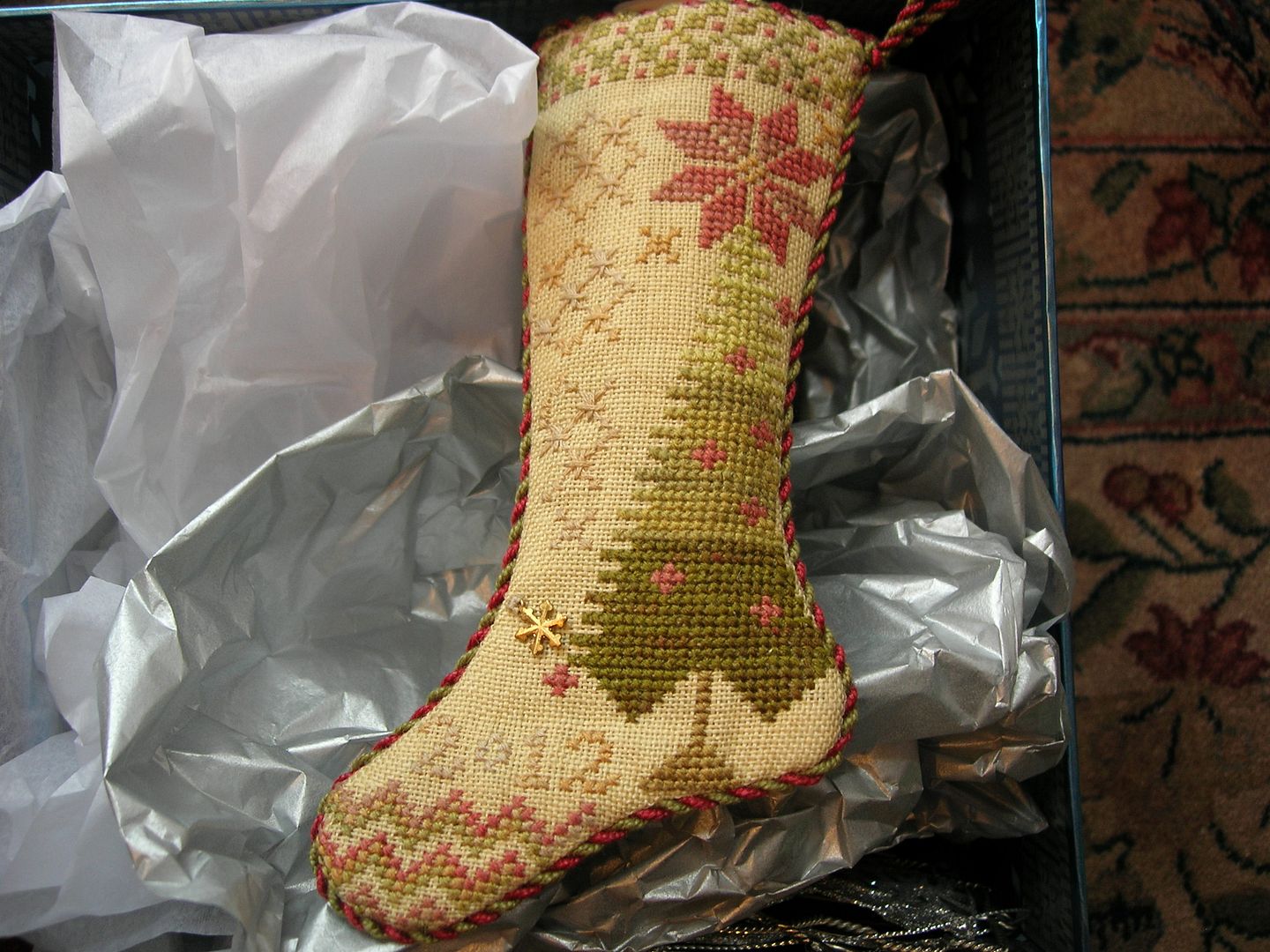 Karen stitched a Shepherd's Bush design for this beautiful box.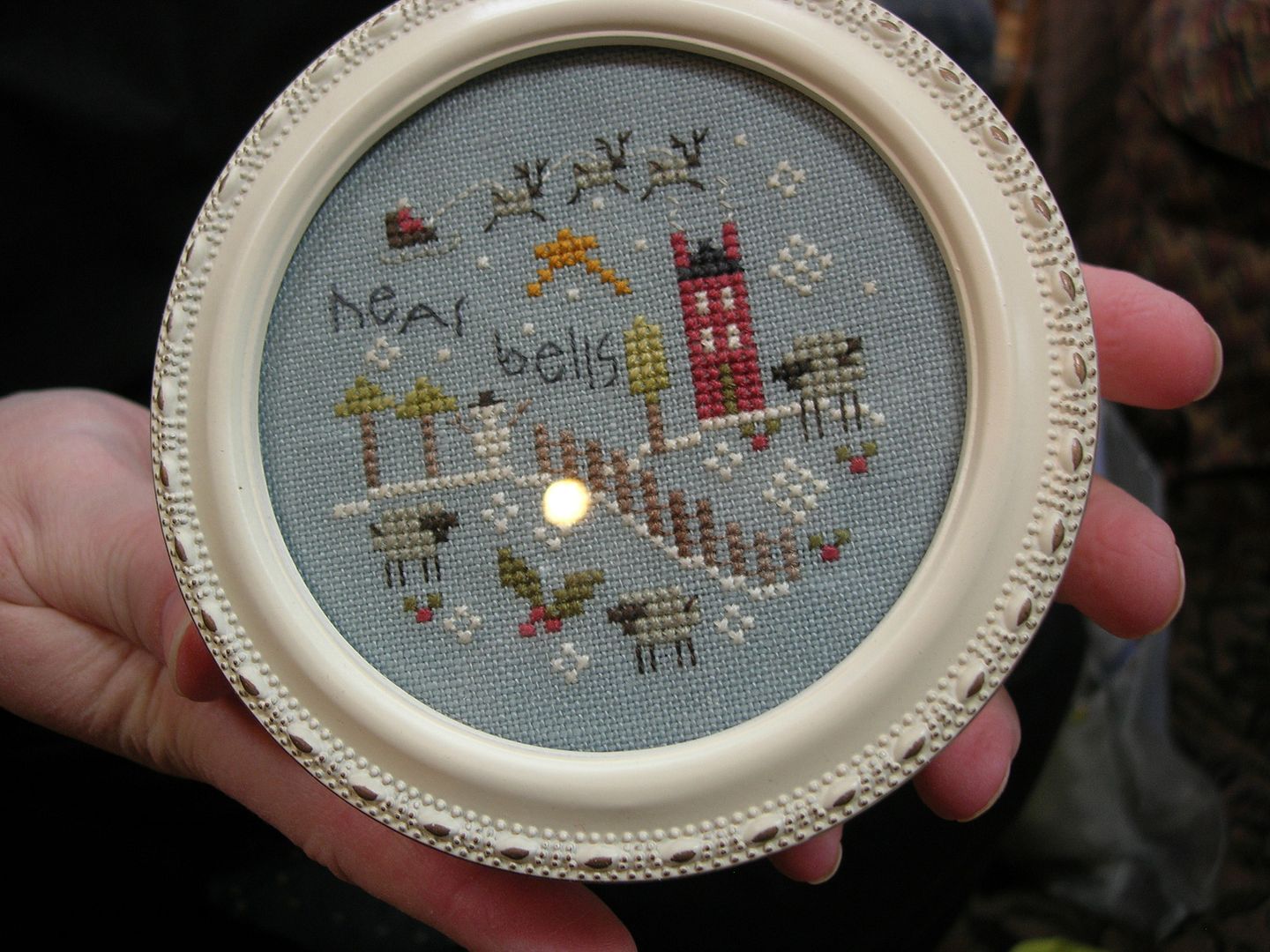 I don't remember who needlepointed this gorgeous ornament. My photo is a bit blurry and doesn't do it justice.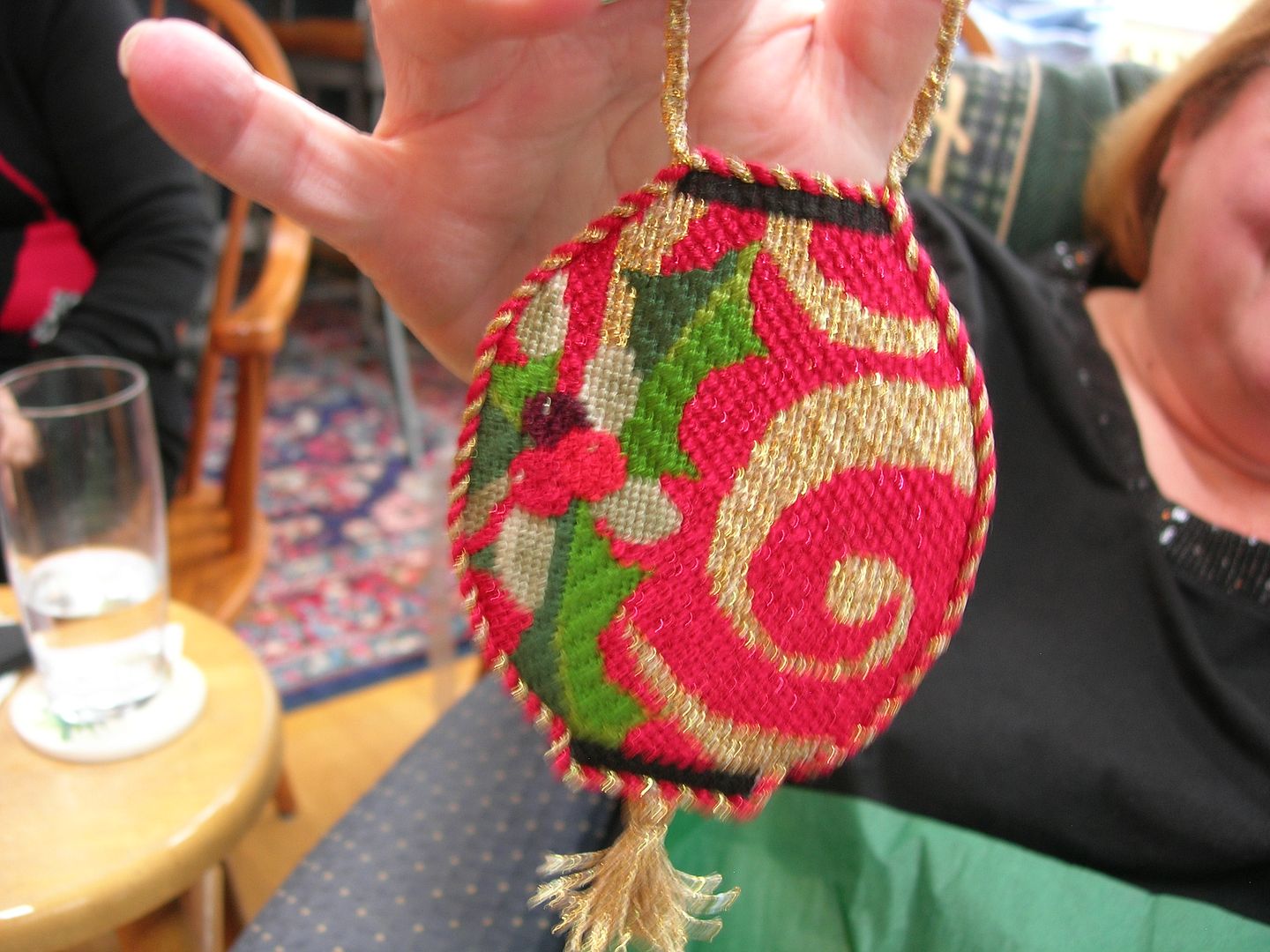 Linda stitched the candy cane in very non-traditional colors which I absolutely love.
Ellen stitched this ornament (Homespun Elegance):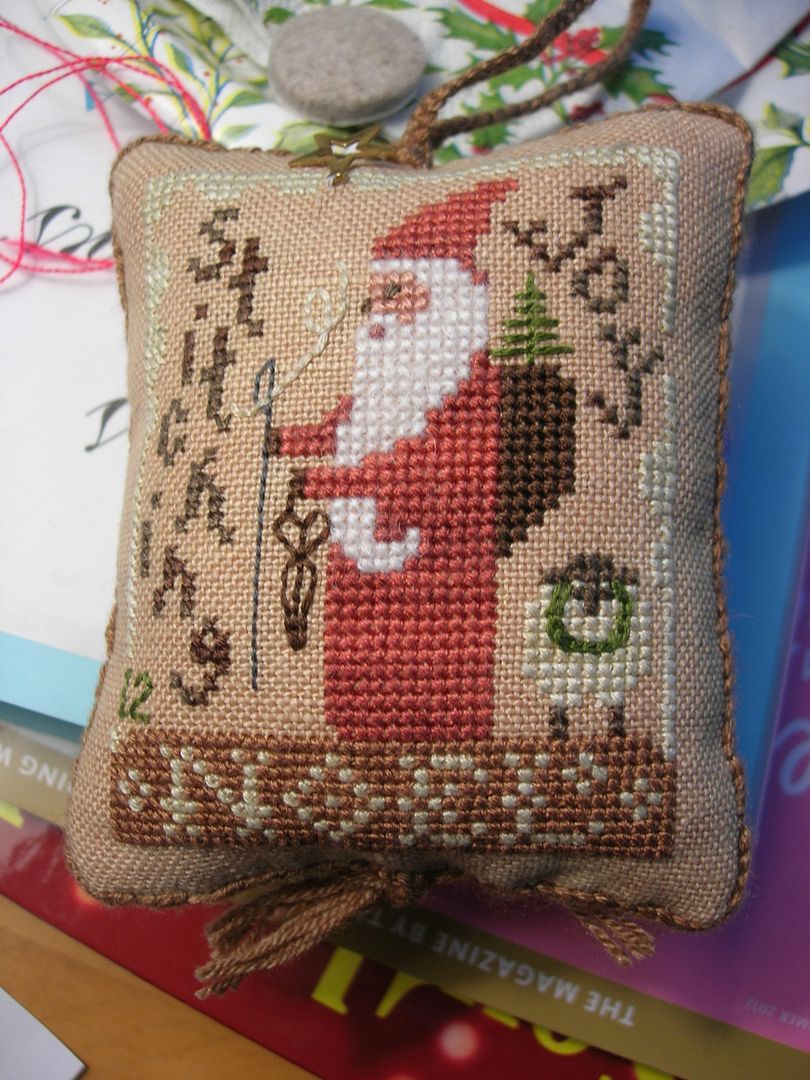 Lois needlepointed this amazing box lid: although you can't see the whole thing because I wanted to focus on the design, it's finished as a blue velvet-covered box.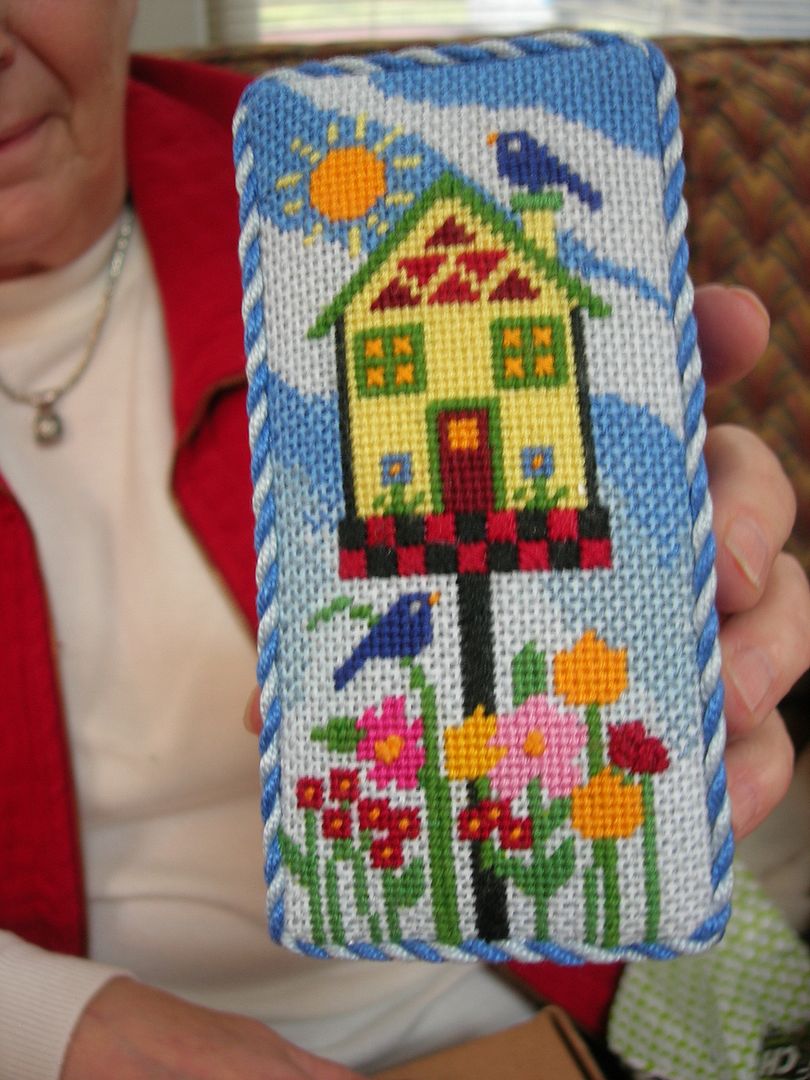 Patricia made this little sheep (I think it's called a "Naked Sheep" because you create clothing for it), which has a little hand-knit shawl over her shoulders. She's a pincushion, but I don't think I'd want to stick pins in her!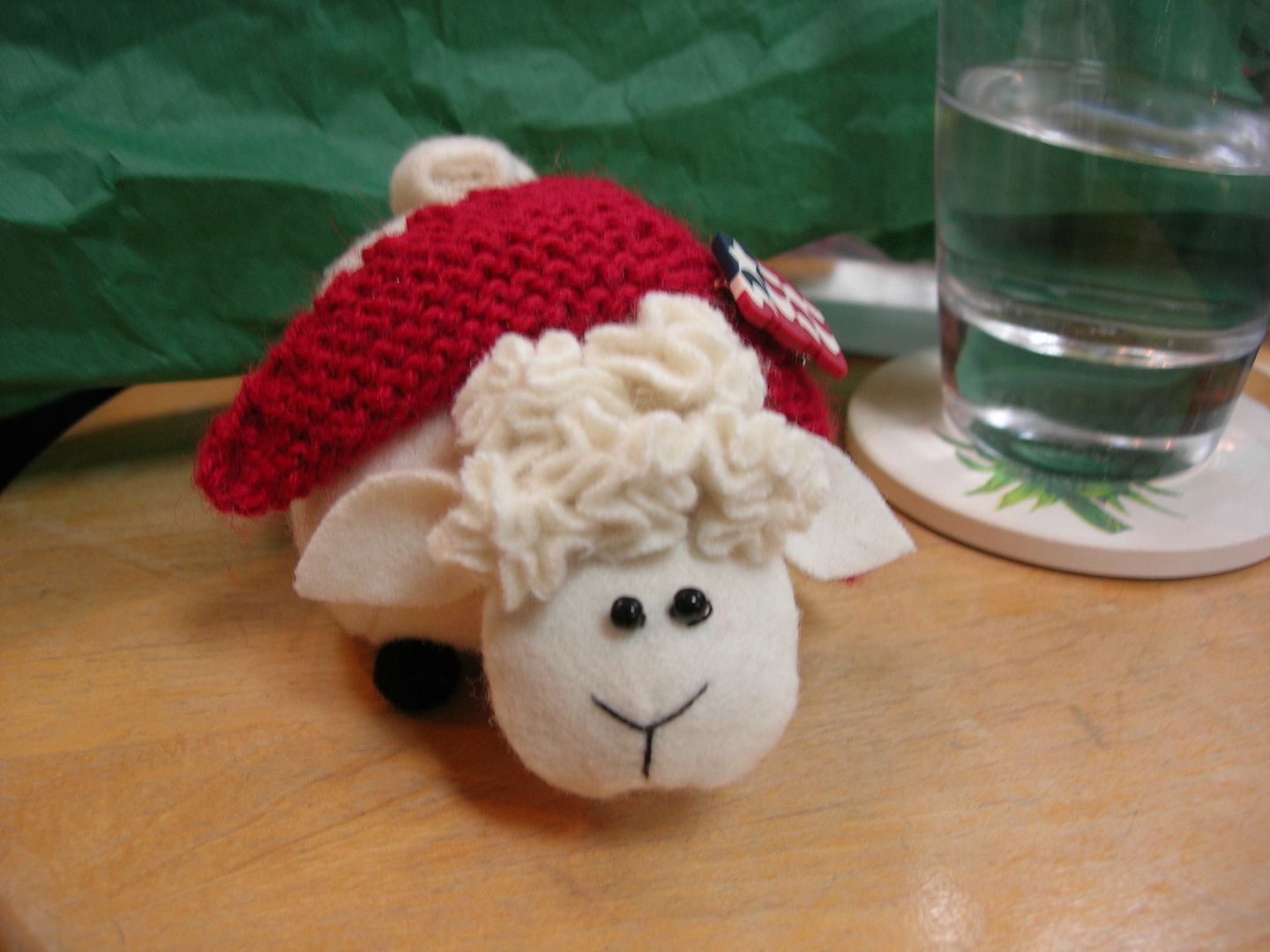 Candie stitched up these very special towels--so festive and bright--practical and beautiful.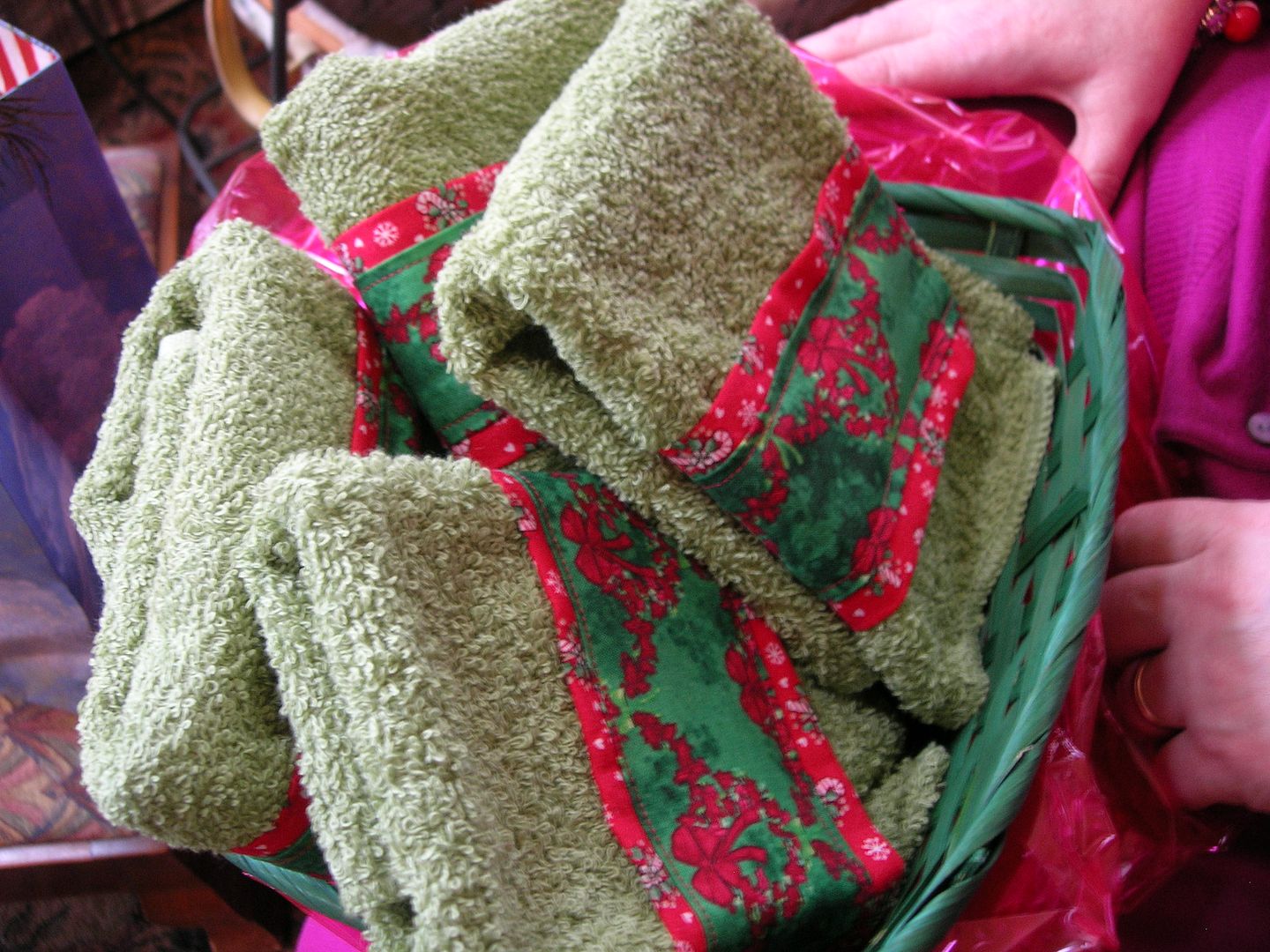 Sharon stitched this cranberry ornament. Look at the gorgeous stitching--over one! I won this and am so thrilled--as a Cape Codder, I can't get enough cranberry items (I think I own every cranberry chart ever designed with the exception of this ornament.)
I stitched these two ornaments by the Prairie Schooler over one on 28 count. The frames are from Michaels--each has a 2"x3" opening. They fit exactly--I did not have to alter the design. I had a blast stitching them--each one took about two weeks of work, stitching on and off. I am going to pick up some more frames this week--I can see a lot of potential for gifts and my own tree.
The group--all those who can needlepoint--stitched this for Ellen; we are having it finished to her taste.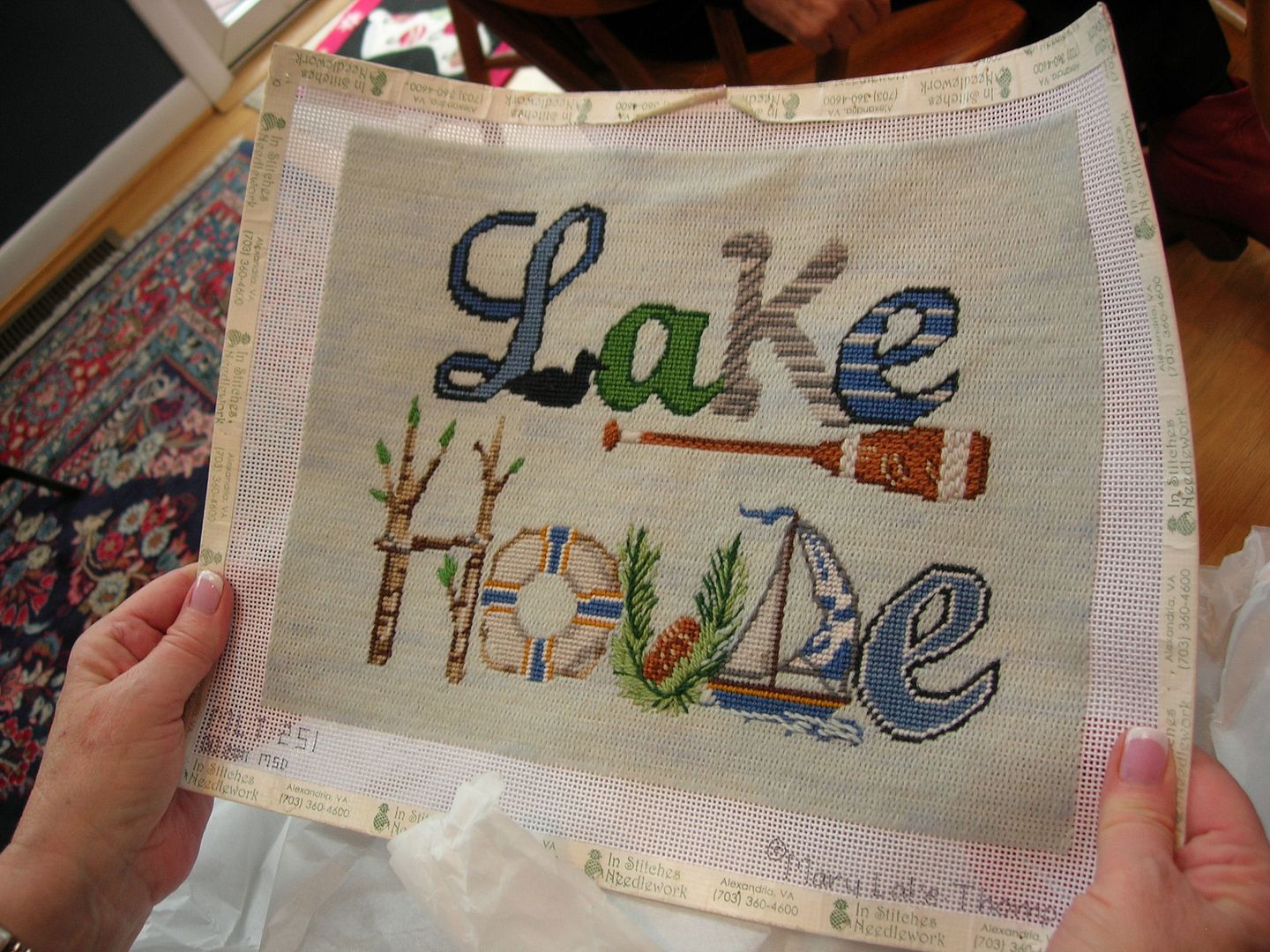 After our gifts were opened, I wandered around, taking photographs of Ellen's Christmas tree, which is full of stitched ornaments. I love that--don't you? And every year it prods me to stitch a few for my own tree. I'm not sure if any of these are still in print.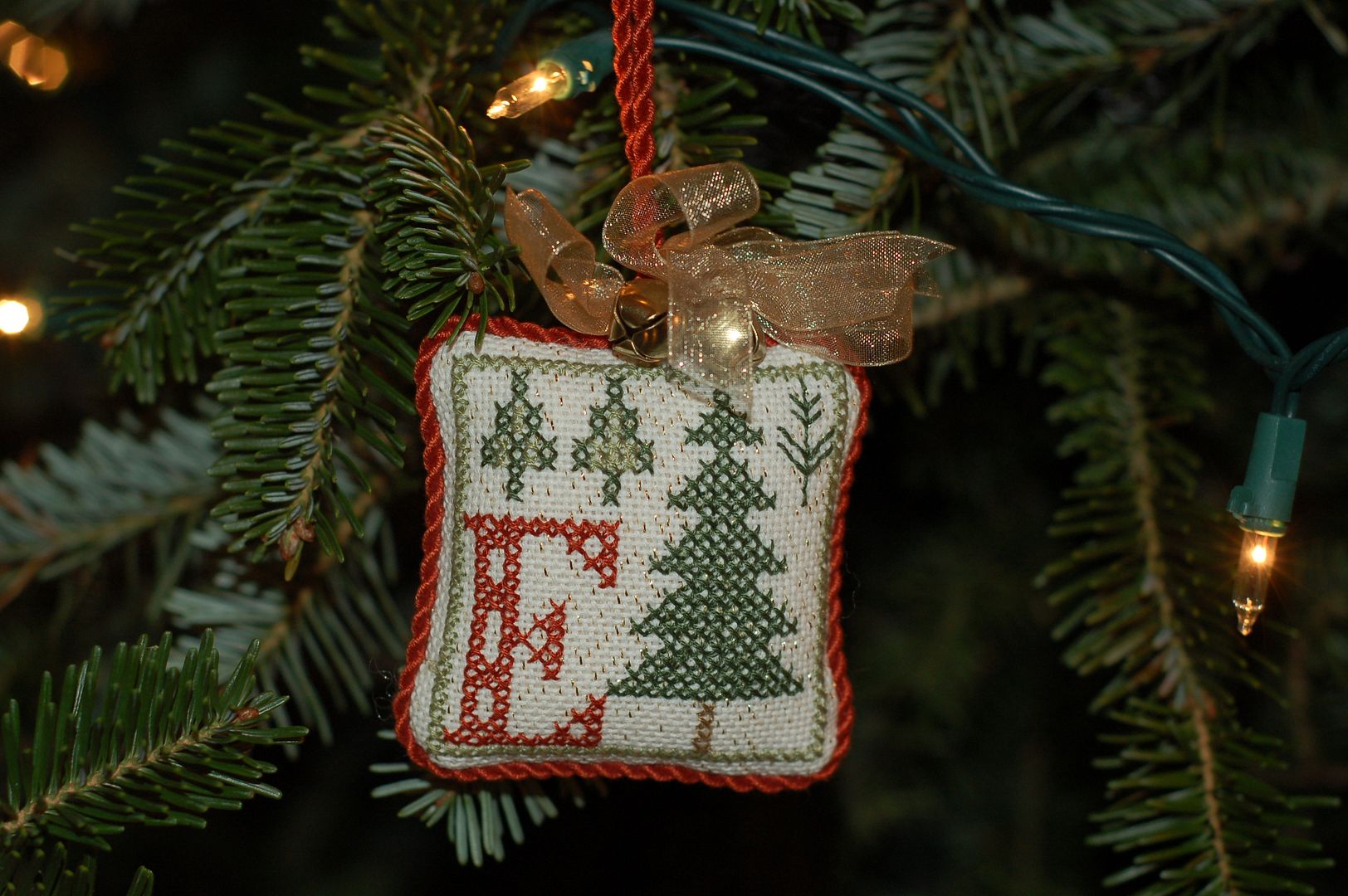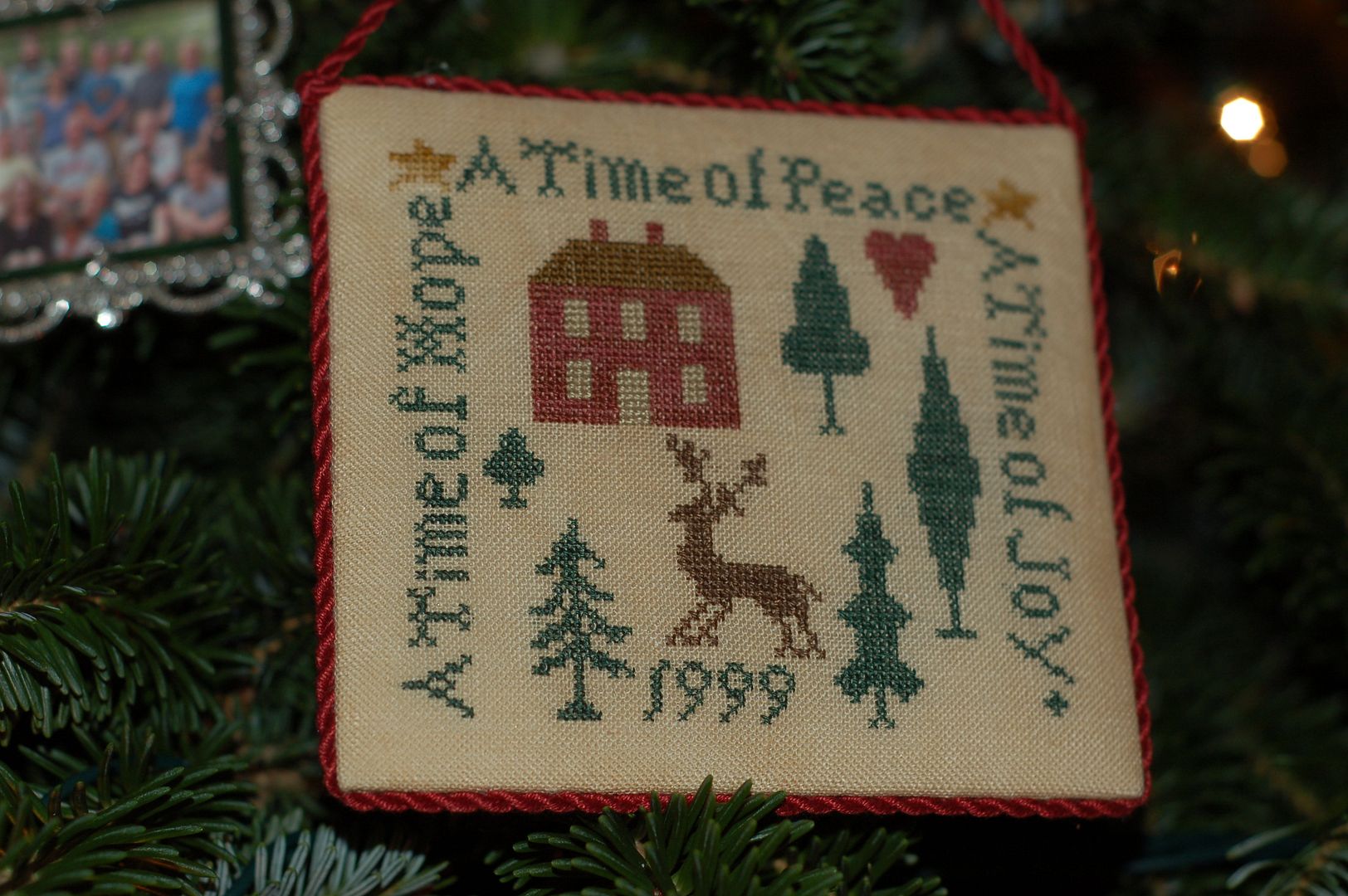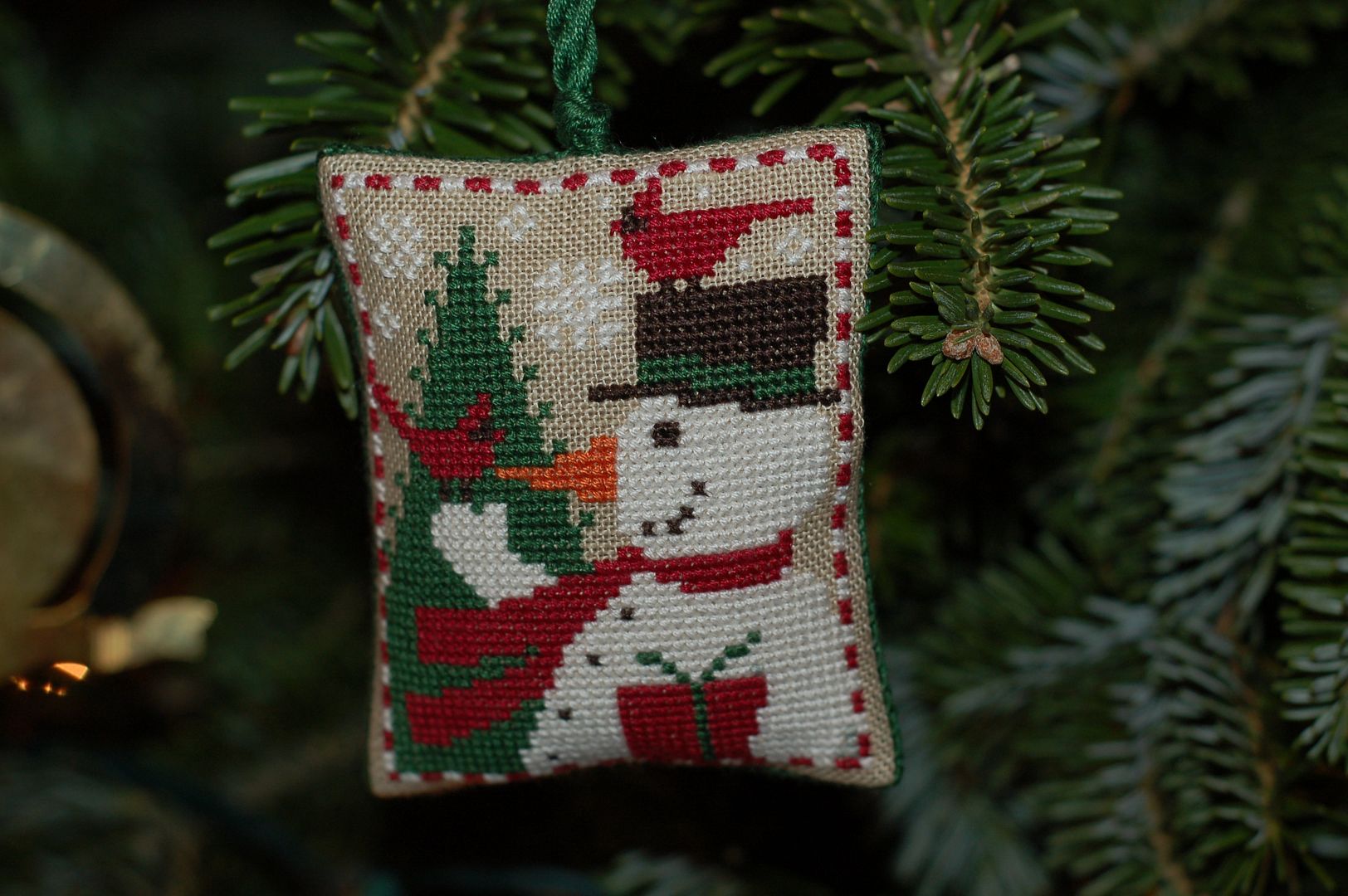 How many parties have you been to lately where you can sit and comfortably stitch and chat? Karen is stitching Jenny Bean's Halloween in hand.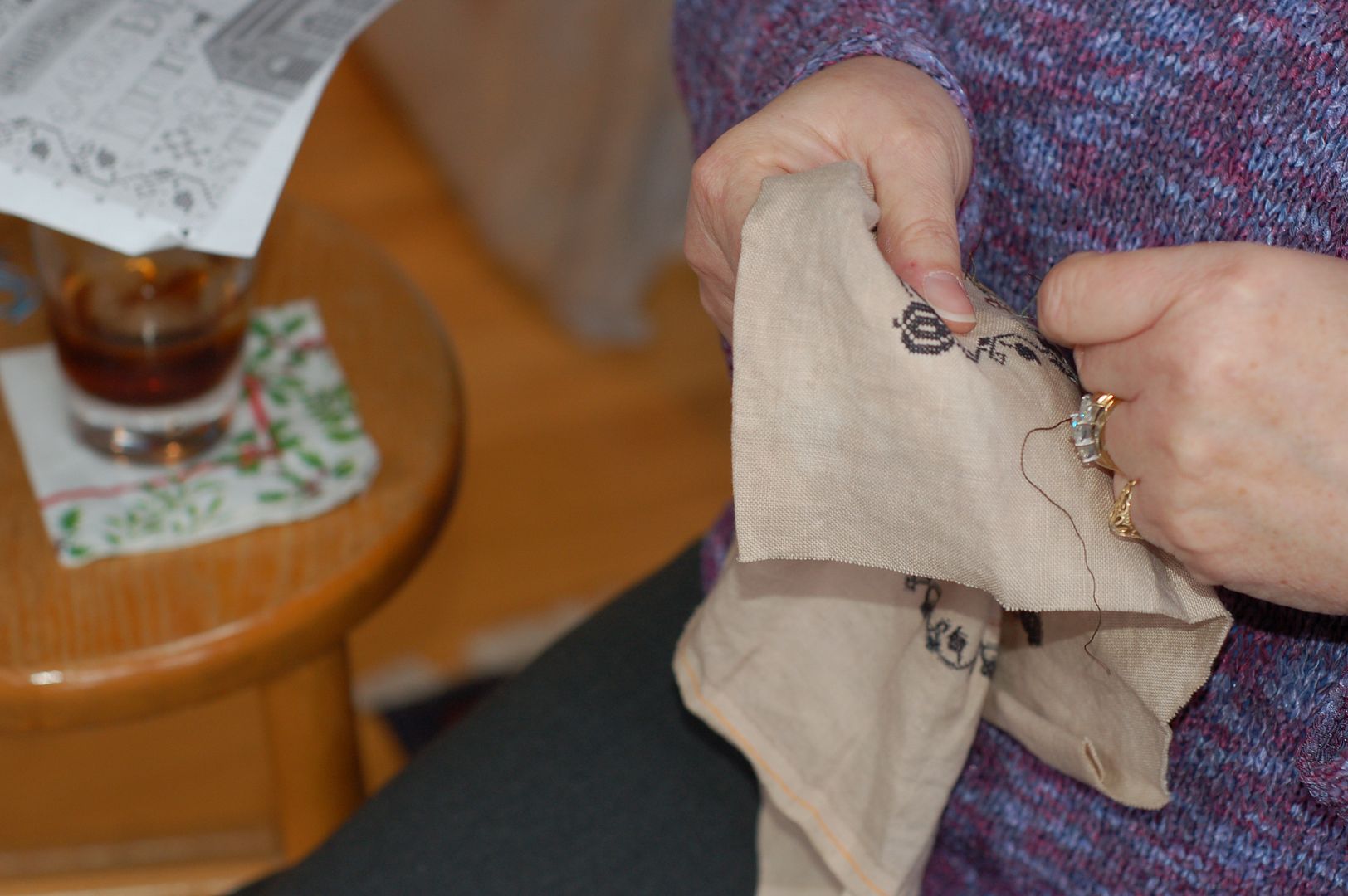 For questions or to order, please call us at 703-360-4600. Please come to Stitch Night if you can this week! We are having our annual Stitch Night Christmas gathering on Wednesday, December 19; there will be finger food and lots of fun. And Stitching!
The shop will be closed Sunday, December 20 through Wednesday, December 26, reopening on Thursday, December 27. Wear your pajamas on the 27th and get a special treat!
Our hours through Saturday, December 22 will be 10 a.m. to 5 p.m. Stitch night on the 19th is 6 p.m. to 9 p.m.
We hope there's lots of stitching under your tree and on it! (And if there isn't, you know who to call!) Happy Stitching!